Devastating injuries sustained in a motorcycle accident could prevent you from working and limit your ability to engage in daily activities. In some cases, these injuries result in permanent disabilities that may make returning to work impossible. You may be able to recover compensation for these losses by contacting a personal injury attorney. If negligence leads to a motorbike collision, a Bloomington motorcycle accident lawyer can help you hold the responsible party accountable.
Do I Need a Lawyer for my Motorcycle Accident Case?
Motorcycle accident cases often involve serious injuries. Unfortunately, all too often insurance companies try to attribute some blame or fault to the motorcycle rider. A lawyer can gather the evidence needed to prove your case, can help you make sure your medical bills are paid, and can work maximize the value of your case. In our experience, because injuries are more serious in motorcycle cases and because insurance companies are more likely to try to blame motorcycle riders, it is particularly important to have legal representation in motorcycle accident cases.
Don't Give a Statement Without Speaking to a Bloomington Motorcycle Accident Lawyer
You are not required to give a statement to the at-fault driver's insurance company. Typically, in the first few days after a motorcycle accident, the other driver's insurance company will ask you to give a recorded statement but giving them recorded statement is a bad idea. The recorded statement is taken to benefit the insurance company, not to help you. Your attorney can speak to the other driver's insurance company and help you in communicating with your own insurance company, to make sure your interests are protected throughout the process.
How Much is Your Motorcycle Accident Case Worth?
We've won millions of dollars in compensation for our clients. While every case is different, the value of injury cases is related to liability, damages, and coverage. Liability involves your ability to prove the other driver was at fault in your motorcycle accident case. Damages are the ways you were harmed by the accident, including your injuries, emotional trauma, pain and suffering, medical bills, lost wages, disability, and other factors. Coverage relates to the ability to collect money to compensate you, usually from either the at-fault driver's insurance company or your own insurance company, and sometimes from the defendant's personal assets. The best way for to determine the value of your specific motorcycle accident case is a free consultation with an injury lawyer.
A Bloomington Motorcycle Accident Lawyer Can Assess Your Injuries
Unlike the occupants of motor vehicles, motorcyclists have no protection from an impact, like airbags or seat belts. The absence of a vehicle frame around them makes riders more susceptible to being thrown from their bikes, often leading to devastating injuries.
Severe injuries may require ongoing medical treatment and rehabilitation, accruing expensive medical bills. As a result, injury victims may be able to seek damages for all their medical expenses related to their injuries from any negligent parties.
Other types of damages that individuals may be able to seek in motorcycle accident claims relate to a loss of income due to an inability to work, whether temporary or permanent. Severe trauma could result in a victim being permanently unable to work, so they may be able to request damages for loss of current and future income.
The cost of repairs to or replacement of the motorcycle involved in the crash could also potentially be recovered. Injury victims also may seek compensation for pain and suffering, permanent disability, scarring, and disfigurement. A Bloomington motorcycle accident lawyer could help an injured claimant recover compensation for their losses by establishing the defendant was at fault.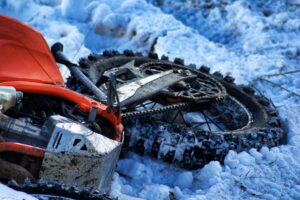 Establishing Fault in Motorcycle Collisions
Most personal injury claims arising from motorcycle accidents rest on establishing fault or negligence. All drivers of motor vehicles, including motorcyclists, have a duty to follow the rules of the road and applicable state traffic laws. If someone fails to observe those rules, they may be considered negligent and, therefore, responsible for the costs of any harm that they cause.
For example, left-turn collisions are a common cause of injuries to motorcyclists. Distracted drivers may turn directly into the path of an oncoming motorcycle, cutting the biker off before they can react. In these cases, the driver may be considered negligent for failing to grant the motorcyclist the right-of-way.
In some cases, both parties may share some of the blame for the accident. Injured motorcyclists must be less than 50 percent at fault for the accident to seek damages from other partially liable parties. The plaintiff's total compensation award would be reduced by their percentage of liability.
Determining fault in a civil claim is vital to a successful recovery. An experienced Bloomington motorcycle accident lawyer can conduct an independent investigation and gather evidence to provide adequate proof of fault in an accident claim. Potential forms of evidence may include accident reconstructions, pictures of the accident scene, dashcam footage police reports, and witness statements.
Look to a Bloomington Motorcycle Accident Attorney for Advice
Motorcycle crashes can result in traumatic injuries such as broken bones, spinal damage, and head trauma. A biker could require extensive treatment, putting a financial burden on them and their family.
A Bloomington motorcycle accident lawyer could seek compensation on your behalf and help you hold the negligent party accountable for their actions. Call today to discuss your case and legal options.