Cycling can be both a form of exercise and a convenient way to commute in Bloomington. Motorists are expected to share the road with bicyclists. However, inattentive drivers may unintentionally strike a biker, causing them severe trauma.
A Bloomington bicycle accident lawyer could help if you have been hurt or someone you love has been injured or killed while biking. An attorney could give you advice on how best to proceed, either through the insurance claim process or by filing a personal injury lawsuit.
Don't Proceed Without Consulting a Bloomington Bicycle Accident Lawyer
If you were recently injured in a cycling accident, you may be unsure of your next moves. Maybe you've received an offer from the other side's insurance company or maybe you're considering filing a lawsuit. Before making any major decisions in relation to settling your accident, it's best to speak with an experienced Bloomington bicycle accident lawyer.
With over 15 years of legal experience, Josh Rohrscheib knows the best strategies to ensure you get full and fair compensation for your injuries. Schedule your free case review today.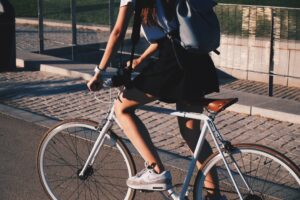 Most Common Bicycle Injuries in Bloomington
In his many years of serving clients who have been injured in accidents, Josh Rohrscheib has settled claims for many types of injuries. Cyclists are more likely to sustain catastrophic injuries that lead to permanent impairment. Even if cyclists wear helmets, the injuries they can sustain in a vehicle-bicycle accident can be severe. Bikers can suffer harm to the brain, including concussions, bleeding, swelling, and trauma. Brain damage can be evident immediately or may take time to develop.
Broken bones are also common in bike accidents. When cyclists are struck by a vehicle, they can be thrown from their bike, resulting in fractured or shattered bones. These injuries can take a long time to heal, may require surgery, and could cause permanent impairment. In some cases, they can lead to lung punctures or internal bleeding.
Lacerations and road rash usually accompany other bike injuries. Wounds can make an injured victim susceptible to infection, so it is essential to get proper medical care after an incident. These injuries can also cause scarring and disfigurement. Since injuries in bike crashes can be catastrophic, a motorcycle accident attorney in Bloomington may be able to recover substantial compensation on your behalf.
How Will a Bloomington Car Accident Lawyer Seek Compensation?
Before filing a lawsuit, a person injured in a bicycle wreck may go through the insurance claims process. Illinois requires drivers to have vehicle insurance with certain policies and minimums. If the person at-fault has a substantial policy, a claimant may be able to obtain a desirable settlement from their insurer.
However, this is not guaranteed. Insurance companies often lowball injured claimants, especially unrepresented ones. A Bloomington bicycle accident lawyer could stand up to insurance companies and negotiate a meaningful settlement.
If the at-fault driver does not have adequate insurance, it may be possible to use the claimant's policy to recover more. This depends on what coverage an individual has and its policy limits. If a claimant's losses are not being fully compensated, they may choose to file a civil lawsuit for damages.
Your personal injury attorney will begin by writing to the insurance company with the details of your accident and injury. After several rounds of negotiations, we may arrive at a settlement. If the insurance company refuses to offer the compensation you truly deserve, your lawyer will fight the matter in court.
We're dedicated to securing the best possible outcome for you and we will explore all legal avenues to ensure you're properly compensated.
Statute of Limitations for Personal Injury Matters in Illinois
Illinois prohibits plaintiffs from filing civil claims if a certain amount of time has elapsed since their accident. The statute of limitations period for filing a bicycle accident lawsuit resulting in physical injuries is two years. The limitation period may be shorter if the vehicle that caused the injury was a government vehicle. There may be additional time if the injured person was a minor. The best way to determine the time limit that would apply to your case is to consult a knowledgeable bicycle accident lawyer based in Illinois.
Speak with a Bloomington Bicycle Accident Attorney Right Away
Though Bloomington has taken steps to become more bicycle-friendly, infrastructure is still inadequate, and drivers are all too often unaware of the need to share the road. These shortcomings pose significant hazards to cyclists.
Consulting an attorney could help you understand what your potential options are for recovering medical bills, lost income, and other damages for the pain and suffering you have endured. A Bloomington bicycle accident lawyer could assess your case and offer advice about how best to proceed. Your initial consultation is free, so call now.